QR codes not only facilitate our mobile social network and payments, but their marketing also gives us new ways and ideas.
QR code marketinguses two-dimensional codes as the primary communication tool, helping achieve quick and convenient communication goals and effects through the rational use of Internet resources.
In general, the basic principle and operating process of two-dimensional code marketing are to record information about a business' brand and products in a two-dimensional code and use various methods to inform consumers. Scan the code to achieve the purpose of effective marketing. Therefore, making consumers ready to scan the principle in this marketing method is the most important. Here is the difficulty in marketing with QR codes.
How to do effective and efficient QR code marketing so that many consumers can get information by QR code in a short time? We understand this marketing method's difficulties and critical points through several cases.
Case 1: Minor Cosmetics Fortune Coin 
Creative QR Code
At the 2012 Guangzhou Internet Merchandise Fair, Minor Makeup successfully attracted the public's attention with a "money grab" activity that gave out "money" on the spot. Real yuan, but a kind of leaflet called "Wealth Coin", is made in the shape and style of the coin and integrates various aspects of Small Make-up. Elements, add a creative QR code. The event's content is to give out wealth coins on the spot, get vouchers by collecting wealth coins, Scan and collect QR codes to get Tmall shopping mall redemption vouchers for Minor makeup. In addition, the QR code also details Sub. For detailed information on makeup brands and products, you can instantly learn about Baby Make-up at the trade show by scanning the QR code to log in.
The "money grab" gimmick was enough to pique everyone's interest. Fortune Coin's creativity in combining banknotes, Miele elements, and trademark QR codes also interested many people. When consumption discount can attract the participation and consumption of the target group and collect brand product information with the help of QR code can also help the public understand and impress the brand in a short time.
Case 2:
 Smart Supermarket's Invisible 
QR Code Using creativity to draw people's attention to a QR code can effectively increase the probability of scanning the code.
To increase the supermarket's traffic and sales during the empty noontime, the Smart supermarket in Korea cleverly placed an exciting QR code device in some outdoor places, in cases where every day.
QR Code cannot be Displayed and scanned for a link can only be displayed usually when a particular projection is produced when the sun shines at noon. At noon the sun shines, a QR code appears. At this time, scanning is not only practical. Supermarket vouchers can also be used online, providing home delivery services. It is very convenient.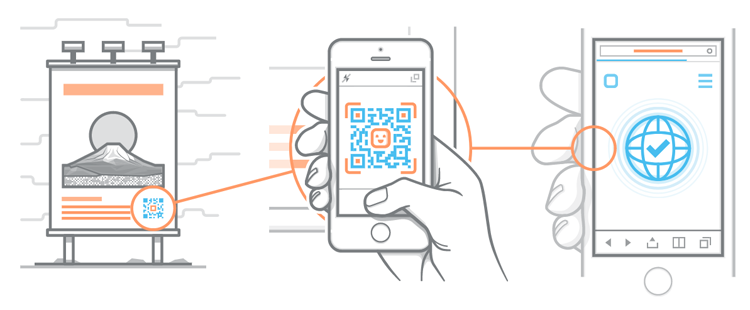 The invisible QR code will only appear when the noonday sun shines on. The place is full of technology and fun. It can attract passersby's curiosity and attention, especially can scan the QR code at noon to discover. Taking coupons from the supermarket is a popular benefit method. Using invisible QR codes to gain benefits is exciting for consumers. Online shopping and home delivery also increase customers' willingness to spend at this time.
Case 3: Huge creative QR code on the "most beautiful" street
The giant QR code "The most beautiful" in Shenyang Zhongjie is similar to the invisible QR code in the Emart supermarket; both are full of creativity in the QR code so that the public can recognize the QR code itself and generate ideas thinking about Scan. In November 2013, the giant QR code on Shenyang Central Street became a hot topic on Weibo and WeChat. A big QR code is hung on a building at the intersection of Zhongjie Pedestrian Street and Chaoyang Street. . Driven by curiosity,scan the QR code, and you can enter a mobile fashion magazine called "The Most Beautiful".
The information contained in it is precisely the content of the columns offered by this magazine, including articles on hot topics such as food and travel. It is widely accepted and followed. And it's such a simple and rudimentary but unique way of being that "The Most Beautiful" magazine is known to many people. It has also successfully gained tens of thousands of fans for the magazine during the period.
Regardless of the method used, as long as the public knows the existence of QR codes and attracts their attention, They will significantly improve the probability of scanning QR codes and receiving brand information.
Case 4: Order QR code KFC Arch
Nowadays, ordering food by QR codehas become common in fast-food restaurants like KFC Arch. Convenient experience. When there are many people, customers only need to scan the order QR code to select the store to order; all products and single product packages are precise at a glance, which saves a lot of speaking time. And confirm compared to manual ordering. This intelligent ordering system makes many customers willing to choose the form of ordering by QR code generally after scanning the code on WeChat, it will automatically track the WeChat public account of KFC Arch, so for For customers, this is a kind of last resort, but for businesses, this QR code ordering method has effectively increased the traffic of the official account and brought in the user base and environment. the dominant market for their WeChat marketing.
Case 5: Spotify QR code greeting card
Spotify has the function of creating music collections and sharing by QR code Users can create collection lists according to their preferences and generate QR codes for exclusive playlists once creation is completed. If a user wants to share a song and mood with a friend, they can send them a greeting card with this QR code, and when that friend scans the QR code, they will receive this mixed playlist.
Through this form, two-dimensional codes have played an essential role in music sharing and social interaction. Due to the hidden and indirect nature of the information in the two-dimensional code, this method is no longer as simple and complex as the QR code. Of Spotify, what is the information in it enough to arouse everyone's curiosity, both as a greeting? As a gift, it also has a sense of surprise, so many users also use this greeting card with this QR code of Spotify. Receive. On the other hand, placing QR codes in social networks, relationships and circles will make the target users less defensive and reactive. They will have a higher adoption rate, significantly increasing brand exposure and achieving a higher level of relationship communication: popularity and new users.
Case 6: Turkish Airlines code-scanning game chess game code scanning game of Turkish Airlines
Turkish Airlines launched a QR code hunt during the London Olympics, and you only need toscan a QR codeto complete the task to receive a free ticket. The specific content of the activity is essentially placing a QR code at 94 bus stops in London. The information in these QR codes is the national flags of the 73 Olympic countries, and you need to find the QR code of the bus station and scan it. You can get any country flag, and it will be automatically registered on the official Turkish Airlines mobile website. Anyone can participate in this treasure hunt after registering an account on the site. The person who gets the most national flags by scanning the QR Code can go to Turkey. Choose a destination on any of your routes and get a free round-trip ticket.
This game focuses on passenger traffic to London during the Olympics and the popularity of the Olympic theme. This game especially picks up London bus stops and collects the flags of the participating countries of the Olympics. The game fits the theme of the London Olympics. However, tricks such as scanning the code to get the national flag getting free air tickets are inherently curious, adventurous and looking for profit. Of the people so that it can cause more significant consequences and fame. Among them, theQR code serves as an essential game support tool. It makes the game more interesting, and many people have become users of the game's website.
Case 7: Anti-counterfeiting QR codes for beauty brands
Many beauty and skincare brands, especially well-known brands, will have QR codes to check the authenticity of their products. After purchase, consumers can scan the code to get the serial number and check the website to get the authenticity check. This method is necessary and very practical for many consumers. It can dispel consumer worries, help them feel more secure with products, and more confident in merchants' services. QR codes also often contain other information about brands and products. By scanning it, consumers can learn more about brands and more products.
From the above cases, we can understand that the key to the success of QR code marketing is to allow consumers to scan the code to get the information inside actively and how to stimulate this initiative. It is the top priority. In these cases, we've seen standard methods and ideas for brands to use QR codes for marketing:
1. Offers to scan codes with benefits Scanning codes to receive various benefits such as red packets, vouchers, and gifts can directly impact many consumers.

2.

 Create a QR Code 

Thrill Get people to notice the QR code and become interested in it, which often leads to scanning the code. Through creative efforts on two-dimensional code, the two-dimensional code itself is full of suspense and fun, fascinating and hard to ignore, suitable for people's curiosity and discovery mentality, so that they can Scan the code to find out.

3. Create the necessary QR code When a QR code becomes an indispensable tool, even if you don't want to use it, you have to use it. The probability of failure is very high. For example, you can only scan the code to order. Food, scan codes to register and join, and more.

4. 

Using QR codes

as a social method In social networks, adding and sharing QR codes is very convenient. Using QR codes as a small tool in social networks can have various effects and be more enjoyable. PEOPLE'S DEFENCES ARE REDUCED BY adding QR codes to social networks due to the added circle of relationships. The desire to share and discover is more apparent, and there are more opportunities to scan the code actively.
List Keyword